Only three months since our debut at the SIAL Shanghai 2017 for our new brand Lafooco, designed by NDHc, today, the first orders have arrived in Hong Kong and appeared in shelves of many supermarkets chains and convenient stores there.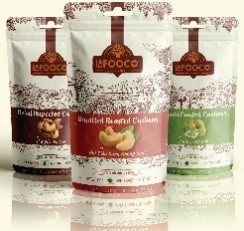 Hong Kong is the first market receiving Lafooco brand along with our other consumer brand, Osca. Therefore, both brands are currently present at two convenient supermarket chains in Hong Kong. With about 100 convenient stores throughout Hong Kong, consumers can easily access Lafooco's cashew nuts.
We chose Hong Kong as the first point of developing for the new Lafooco brand because the people are very fond of cashew nuts and there is zero consuming tax, which facilitates people boost consumption of products.
Lafooco, 05 Sept 17